Transfer Print Processes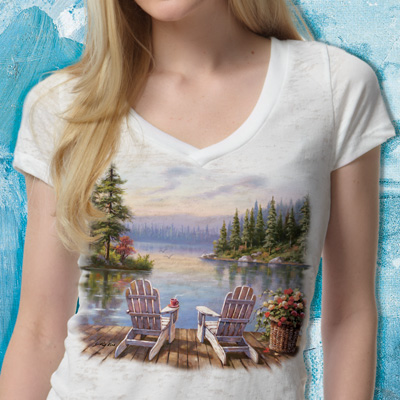 High Definition - Lights
A super high definition plastisol transfer with a very soft hand. This print produces beautiful bright vivid colors. These transfers are made for a wide variety of light or pastel colored materials.
Application Instructions

Watch Howto Video
X
A screen printed and highly detailed process print transfer. The colors, detail and feel are unsurpassed. Prints best on white and mid-toned fabrics.
Pre-Press Garment
3-5 Sec. (removes wrinkles in garment)
Temperature
385º - 400ºF (195º - 204ºC)
Pressure
Medium/Heavy = 45 - 55 PSI (18 - 25 Kilo)
Time
8 - 10 Sec. - Hot Peel Immediately
Pricing
Price/10.5" x 14.5" Sheet - 100 Sheet Minimum
100
150
250
500
600
750
1000+
$3.18
$2.52
$1.92
$0.96
$0.90
$0.85
$0.79
Special effects (Metallic, Glitter and Glow) are available with this process. Please contact your representative for a quote.
Why High Definition - Lights?
Description
Super High Definition, beautiful, bright vivid colors, with a soft hand for light color garments.
Uses
This process is for light colored garments if you have high detail, photographic, or digital imagery. High Definition light is also very good for feathered edges and fade outs.
Advantages
Soft hand (feel of the graphic)
Machine washable
No cracking or peeling
If you are printing lighter shirts this process is less expensive
Most Commonly used Products
T-shirts and most apparel items
Sweatshirts
Jerseys WO/waterproofing
Jackets
Canvas bags
Caps
Light Denim
Cotton and cotton blends